In this tutorial we will show you how to load a PDF Flyer to your specials page. 
1. Get a .JPG version of your PDF Flyer.
Firstly, we need a .JPG of your flyer and the PDF version. In Adobe Acrobat (not reader) you can save/export the .PDF into a .JPG image file. If you dont have Adobe Acrobat you can use this program: Wondershare PDF element which you can export PDFs to many different formats, including .JPGs. Download it here. It is a paid piece of software but its cheaper than Adobe Acrobat. 
Alternatively if you have the Flyer open in your artwork program such as CorelDraw, Illustrator or Word/Publisher etc you can Export to .JPGs there. 
2. Find out the size of your Specials page in Pixels
You need to resize your image to suit your web page. Each site is different and is specific to your original specifications. 
To find the size in Pixels of your specials page you can ask Gunweb Systems over the phone for a quick response from Gemma or you can download the MeasureIt Addon for your Browser so you can measure it yourself. 
Once you have added the Add on to your browser the little ruler icon will appear in the Top Right Hand Side of your web browser. See below how it looks on Google Chrome.
Then click the Ruler and measure the area of the web page by clicking and draging it like a rectangle so you can see how many pixels the Width is. Dont worry about the height so much just the width.
for this example we can see the page width is 850 pixels wide so we can make our flyer that width and it wont sit off the side of your website. 
3. Resize your .JPG flyer
Now we know how wide to make the flyer, you will need to resize the image.
You can do it these ways:
Free Program to resize images download here with tutorial
Use SnagIt to Resize images download here
Use Paint which everyone has installed on their computers (comes with Windows)
Resize the Width to 850 pixels wide and the height will change accordingly. Save this file for later use. 
4. Upload your .JPG file
Go to your website and log in as a User
then go to the Specials Page.
Click the Edit icon on the page to edit that page. 
Click the Insert/Edit Image Button located here
Then click the Upload Tab
Then Choose your file to upload and click Send to Server
Then Click OK
Once you click OK it will bring you back to the Specials Edit Page and your image will be loaded. 
5. Upload your .PDF file to the image
To upload your PDF as a link to the image, click the image once to highlight it and click the Insert/Edit Link button shown below
The Insert/Edit Link button looks like this: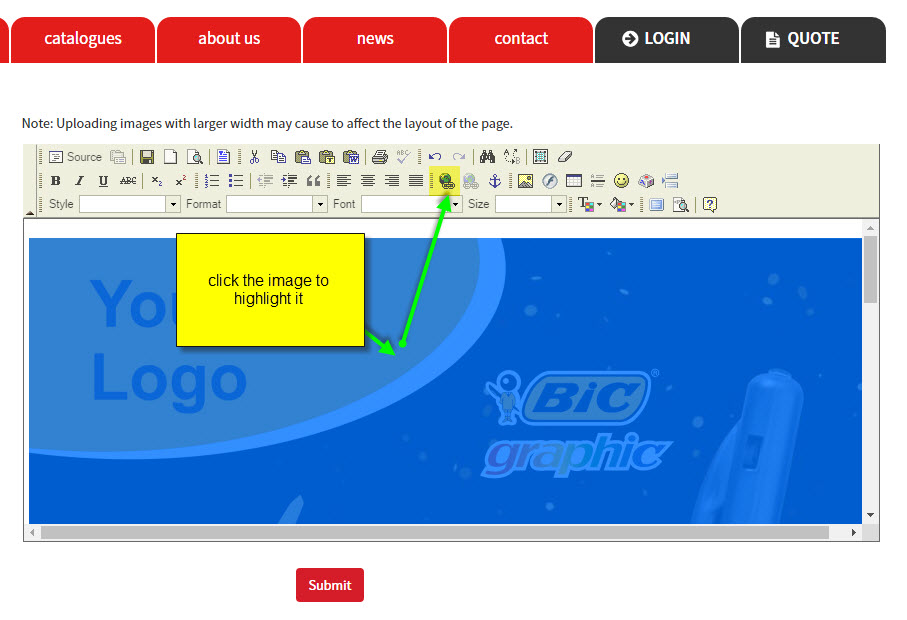 Then go to the Upload Tab and find your PDF file
Then click Send it to the Server
and click OK
Then click the Target Tab and make the Target a New Window so when people click on the flyer the PDF opens in a new window and your website is still on their screen.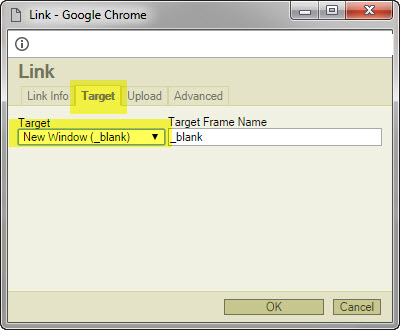 Click Submit to save the change
Then check your work and test the links to make sure it all works.