One of the most efficient tools in Xebra E-Commerce is Real Time, allowing clients to access and run reports at any time according to their criteria and providing your staff immediate notification of new E-Commerce orders to be processed.
•

Setup

– From the E-Commerce main dialog,

Actions > Real Time Setup

.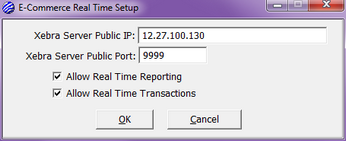 Xebra Server Public IP: 12.27.100.130
Xebra Server Public Port: This is unique to each company.  Simply contact Xetex Customer Support to obtain yours.
o

Self-hosted Systems

– You will have to determine the public IP and port allowing access to it.  The person in charge of or responsible for setting up your network should be able to easily provide you this information.
•

Allow Real Time Reporting

– This enables your end user to access and run reports at anytime, using their own criteria.  Enabling this feature does not automatically activate all reports for the end user.  Via the Web User dialog, you will need to select which reports the end user may access.  Without enabling this feature, the end user can still be given access to reports; however, they will remain static based on the criteria you enter and will only update on your command.  Note: Selecting this option enables Real Time Reporting for ALL end users that have access to reports.  You cannot limit Real Time Reporting on a customer-by-customer or user-by-user basis.
•

Allow Real Time Transactions

– By default, you must refresh the website to import any new transactions into the backend of Xebra.  Real Time Transactions removes this step.  When selected, an end user will submit an order via their site; the order will then immediately post to Unprocessed Activity in Xebra E-Commerce.  If the Link To Operator (see Customer Shipping Records) is in use, the appropriate operator will receive a system message indicating there is an order waiting to be processed.  Note: This is a system wide option.  Enabling Real Time Transactions will enable it for ALL customers and users.